♔♛
Posted on June 1st, 2014 by Richard
My game of the week
I have created a new YouTube chess video playlist at my rpdatutube YouTube chess account. It is called "My game of the week" and the first video shows a French Advanced Wade variation win for me as black. The video is shown below:
I like the French defence as both White and Black. Notable GM's that have played the French defence are GM Nimzovitch, GM Korchnoi, GM Botvinnik, GM Morozevich, GM Akobian, GM Uhlmann to name just a few!
Bobby Fischer did not play the French defence as black. He preferred the Sicilian defence as black. With white against the French he almost always played 3.Nc3 leading to the Classical or Winawer variations but he did not have his normal success rate against the French as in his other openings.
Rating increase based on the French
Many of my games are French defence ones and as I have to improve my rating, I need to play the French defence better! So I look forward to great games with the French defence and even the French Exchange (which I vow not to play as White if I possibly can! It is the most dull variation in the rich French defence system!).
Enjoy your chess over this next week and I hope to have another chess video next week….
Tags: Chess game, Chess Openings, my chess games
Posted in chess games, Chess Openings, My Chess • Comment on this post »
Written by: Richard
♔♛
Posted on March 4th, 2013 by Richard
Against 1.e4 I play 1…e6 and start the French defence. I have mentioned this before in my other posts and I have done a video or two with my French games and now I add a little more on the French defence.
After 1.e4 e6 the game can continue in several ways and it is useful to know something about these if you play 1.e4 e6 -the French Defence. 3 mainline French variations are Advance/Classical/Tarrasch variations and White can play other ways and commonly this might be a Kings Indian Attack with d3 or French sidelines such as the French Reti gambit & Wing gambits.
Against the French Advance Black often employs the Wade variation with Qb6. Then Black will try & play on the Queenside while White may try to play on the Kingside.
The French Exchange is just a very boring opening by White! It actually has a notable drawing record and imho is a very unimaginative way for White to play against the French. It tends to lead to very symmetrical positions and Black often remains the opening tempo down. So I always like to develop quickly and not give White any tempo with a6/h6 type moves until castled & fully developed. This openings main challenge is to look further ahead and prepare for a slow attritional game-not something I enjoy but needs to be taken seriously before one player gets too bored & makes mistakes!
Against the Classical is the Winawer with Bb4 (pinning Nc3) but White can reply with Qg5 pressurising Black's kingside. There is a lot of theory to the Winawer (including Poisoned Pawn variation). Presently I do not play this as I have not taken up the challenge to play this very sharp opening. Instead against either Classical (Nc3) or Tarrasch I play dxe and go for either Rubinstein variation (Nd7) or I have just become aware of the Fort Knox variation with Bd7 & next Bd6 which have less theory for Black but also good chances for White.
I have played a few Fort Knox blitz games but unfortunately I do not seem to have saved any to show here.
I believe GM Neil McDonald plays this but I have only seen a video of him losing with it!(against GM D Howell). Here is a link to Melbourne Chess Club YouTube video about it:
French Fort Knox at Melbourne Chess Club
I have already had mixed results with the Fort Knox variation and I look forward to playing it a bit more and comparing it against the French Rubinstein.
Against the Kings Indian Attack? Well frankly I do not know this well enough yet to pass comment. I must start to study this more now…
As White I am playing the Advance variation myself and exploring the Milner Barry Gambit in blitz with Bd3. I have not in general had great success with it yet but it is exciting & I am learning from my mistakes and feel it is appropriate for blitz games. If Black is not careful with the "Wade" Queen(!) it can become a target & be lost with a crushing advantage to White. This is where having some ideas of what possibilities an opening gives is helpful over just choosing moves at the time over the board. Playing moves at the time over the board is fine in general but you will probably miss opportunities that are there if you know more about the opening through some prior study and preparation of it.
Anyway I hope this gives a little insight into the French defence, an opening I play and which I need to explore more. The French defence is a rich & complex opening for Black & White & I j'aime la francais! I hope you enjoy playing with & against the French too-Viva the French! 🙂
Tags: Chess Openings
Posted in chess games, Chess Openings, My Chess • Comment on this post »
Written by: Richard
♔♛
Posted on October 17th, 2011 by Richard
I like the French defence. It is my favourite defence as Black vs White 1.e4 and as I play 1.e4 as White I often face it as White and am trying to learn & play the French Advance variation as White.
Off the top of my head now I cannot remember a specific French defence game as Black or White as good examples. I will try & look into this as I think it helps understanding of the openings if you can recall specific games. I do know Bobby Fischer played as White vs the Winawer variation several times. For the Black side I recall Botvinnik had some good French defence games & Unzinger specialised in it (Korchnoi must have played it too!-I will investigate!).
Well here is my latest chess video showing a 5min blitz game in the French Advance. I made several mistakes as White in this game & my opponent certainly made mistakes with a massive end blunder to lose the game!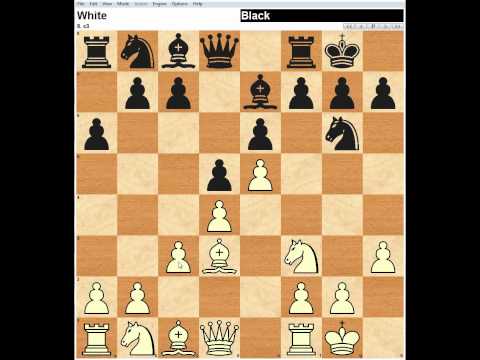 I intend to learn from my mistakes and improve my chess play & rating!!

Tags: Chess analysis, Chess game, Chess Openings, Chess Tournaments
Posted in chess games, Chess Openings, My Chess • Comment on this post »

Written by: Richard

♔♛

Posted on November 25th, 2010 by Richard

I have played 2 rapidplay club matches over the last week.
Format is G30 as White & Black against the same opponent.
I quite enjoy that format overall in contrast to other players who seem to prefer longer play games.

Results? In the first match I lost both games & in the second match I won both games! All very topsy turvy!!!
Here below I show 1 loss and 1 win. The games were definitely not good with many poor moves and missed opportunities for both sides but especially from my side! I have room for considerable improvement and I will try and learn from my mistakes & so try to improve!

Game 1-Colle vs English defence opening!
I am black and should have played 16…. Nxg3 but I didn't and then the White bishops were strong and I made a blunder with my knight at the end & I resigned!


Next game: French Defence (I am black and make a big mistake at the start but White does not finish me off and later I get a chance and white makes a blunder giving mate!)


>>>>>>>>>>>>>>>>>>>>>>>>>>>>>>>>>

SCID chess database & game play software

I have mainly done my computing on PC's running MSWindows (XP or Vista) and a long while ago I installed SCID chess database. I didn't really use it much as I also had Fritz9 and ChessBase Light and found these easier to use.

However I recently added Ubuntu10.04 to my son's old Vista computer which now dual boots. I am enjoying the Linux type computing with Ubuntu and I added SCID to Ubuntu to try it again but I cannot get it to play a game with any installed engine (Stockfish Toga or Crafty).

Does anyone know how I can play against an engine using SCID? I will continue to try to do this but I am most grateful for any helpful instruction (of course I have followed a few links from Google search but no post has solved this for me yet). Does anyone reading this post use SCID? If so please let me know how to play against an engine with SCID-thanks!!

<<<<<<<<<<<<<<<<<<<<<<<<<<<<<< I am now aiming to get my FICS 5 min blitz rating to over 1400 by Christmas! (Currently my FICS 5 min rating is around 1200 and I feel if I can play more I can get it to over 1400-here goes....)

Tags: Chess game, Chess Openings, my chess games
Posted in chess games, Chess Openings, My Chess • Comment on this post »

Written by: Richard

♔♛

Posted on November 1st, 2010 by Richard

 

Last weekend (30/31 Oct 2010) was the Bury St Edmunds Chess Congress in the

new  Apex function hall. There was a large entry of over 170 chess players.

 I had to take a bye on the 3rd round (went to watch my daughter perform in LMA drama production 'FAME' which was very good!).

Anyway I played badly in my 4 matches in the Minor section only acheiving a draw with 3 losses so finishing with 1/5!

This was very disappointing to me. I played several openings:- French Exchange (as black)/Alekhines's defence (as white)/Bird's Opening (as black)/Nimzowitch defence (as white) and my favourite Scotch (as white).

There was a joint winner in the Open section-a tie between GM M Turner and GM N Pert

 
 Open Section

 Here is my only half reasonable reult-the draw I made in round2:

Alekhine's defence-Draw agreed

I was very disappointed with my play and results-in all games except round2 draw I blundered away good positions I had achieved. The only thing I can do with this is put it down to experience and try & learn some lessons from it and play better in my next matches! I do need to do 2 specific things:

1. Do not spend too much time on moves and then try to play too quickly to get to the time control.

2. Do not move too quickly and make blunders!

These are almost mutually dependant actions and overall I need to think more carefully about how I play each move and the whole game.

So I still have a lot to learn and a lot to improve to achieve my aim to play good chess and improve my rating!

Tags: Chess game, Chess Openings, Chess Tournaments, my chess games
Posted in chess games, Chess Openings, My Chess • Comment on this post »

Written by: Richard

♔♛

Posted on October 28th, 2010 by Richard

My 2 current chess goals are to improve my Blitz rating and my OTB rating.

I want to get my 5min blitz rating to over 1400(currently is 1200) and my OTB BCF rating to over 100. Both should be possible if I can spend some time playing and studying!

Here is a blitz game I won today.

Alekhine defence B02-I am playing White:

I enjoyed the successful kingside attack finishing with mate!

Tags: Chess game, Chess Openings, my chess games
Posted in Chess Openings, My Chess • Comment on this post »

Written by: Richard

Next Entries »« Older Entries