♔♛
Posted on October 17th, 2011 by Richard
I like the French defence. It is my favourite defence as Black vs White 1.e4 and as I play 1.e4 as White I often face it as White and am trying to learn & play the French Advance variation as White.
Off the top of my head now I cannot remember a specific French defence game as Black or White as good examples. I will try & look into this as I think it helps understanding of the openings if you can recall specific games. I do know Bobby Fischer played as White vs the Winawer variation several times. For the Black side I recall Botvinnik had some good French defence games & Unzinger specialised in it (Korchnoi must have played it too!-I will investigate!).
Well here is my latest chess video showing a 5min blitz game in the French Advance. I made several mistakes as White in this game & my opponent certainly made mistakes with a massive end blunder to lose the game!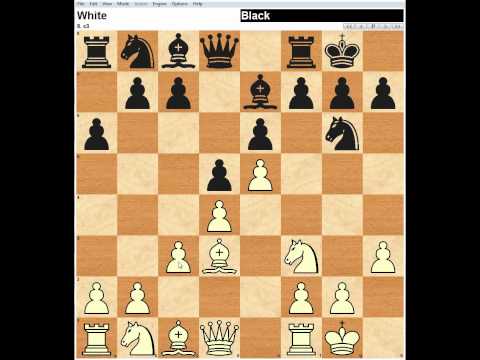 I intend to learn from my mistakes and improve my chess play & rating!!
Tags: Chess analysis, Chess game, Chess Openings, Chess Tournaments
Posted in chess games, Chess Openings, My Chess • Comment on this post »
Written by: Richard
♔♛
Posted on June 28th, 2010 by Richard
Here is a fascinating interview with my chess coach Bob Jones on how to improve your chess:

Bob is a well known local chess player and coach and tournament oraniser. Hear his views on how a near beginner can try to improve their chess rating. He gives sound advice which will help any beginner become a better player!
Tags: Chess analysis, Chess game, Chess Openings
Posted in Chess Openings, My Chess • Comment on this post »
Written by: Richard
♔♛
Posted on June 13th, 2010 by Richard
This is the puzzle at pogonina.com (see side bar link to pogonina site)
The match is Anand vs Kamsky 1990 and Anand (white) to play and win.

Hint-there is a lot of pressure on h7!

Here is the solution- the game continued 1. Rd1 Bg6 2. Rdd7 Re1+3.Kg2 f3+ 4.Kh3 Kamsky (black) resigns 1-0

However I checked this position out with Rybka engine and it gives a draw! Here is my Rybka 2.2 analysis:

[pgn  parameter=value height=500 autoplayMode=none]

[Event "New Analysis"]
[Site "?"]
[Date "1990"]
[Round "-"]
[White "Anand"]
[Black "Kamsky"]
[Result "1-0"]

1.e4 c5 2.Nf3 e6 3.d4 cxd4 4.Nxd4 a6 5.Bd3 Nf6 6.O-O Qc7 7.Qe2
d6 8.c4 g6 9.Rd1 Bg7 10.Nf3 Nc6 11.Bf4 O-O 12.Bc2 e5 13.Be3
Nb4 14.Nc3 Nxc2 15.Qxc2 Qxc4 16.Rxd6 b5 17.Bb6 Bb7 18.Nd2 Qc8
19.Qd3 Nh5 20.g3 Qh3 21.Nd5 Kh8 22.Qf1 Qxf1+ 23.Nxf1 f5 24.Rd1
Nf6 25.Nxf6 Bxf6 26.exf5 gxf5 27.Rd7 Be4 28.Ne3 Rac8 29.b4 Bf3
30.Re1 f4 31.Nf1 Bg7 32.Nd2 Bg4 33.Ra7 Rc2 34.Ne4 Rxa2 35.Bc5
Rd8 36.Be7 Re2 37.Rf1 Rc8 38.Bf6 Bxf6 39.Nxf6 Bf5 40.g4 Rf8
41.Rd1 Bg6 42.Rdd7 Re1+ 43.Kg2 f3 {At this point Kamsky resigns

BUT my Rybka analysis seems to show he could have got a draw!
Rybka 2.2 analysis from here on is
1.Kh3 Rxa7 2. Rxa7 Rg1 3. Rxa6 Rg2 4. Re6 Rxf2 5. Kg3 Rb2 6. Kxf3 Rb3+ 7.
Ke2 Rxb4 8. Rxe5 Kg7 9. g5 h6 10. Nd5 Rb2+ 11. Ke3 Bf7 12. h4 Rb1 13. Kd4
b4 14. Ne3 hxg5 15. Rxg5+ Kf8 16. Rb5 b3 17. Rb8+ Kg7 18. Rb6 Rh1 19. Ke5
Rh2 20. Nf5+ Kh7 21. Kf6 Bd5 22. Ke5 Bf7 23. Kf6 Bd5 24. Ke5 Bf7}
44.Kh3 Rxa7 45. Rxa7 Rg1 46. Rxa6 Rg2 47. Re6 Rxf2 48. Kg3 Rb2 49. Kxf3 Rb3+ 50.
Ke2 Rxb4 51. Rxe5 Kg7 52. g5 h6 53. Nd5 Rb2+ 54. Ke3 Bf7 55. h4 Rb1 56. Kd4
b4 57. Ne3 hxg5 58. Rxg5+ Kf8 59. Rb5 b3 60. Rb8+ Kg7 61. Rb6 Rh1 62. Ke5
Rh2 63. Nf5+ Kh7 64. Kf6 Bd5 65. Ke5 Bf7 66. Kf6 Bd5 67. Ke5 Bf7
Draw by repetition}1-0[/pgn]

Here is the text/pgn analysis:
[Event "New Analysis-Rybka"]
[Site "?"]
[Date "1990"]
[Round "-"]
[White "Anand"]
[Black "Kamsky"]
[Result "1/2-1/2"]

1… Rxa7 2. Rxa7 Rg1 3. Rxa6 Rg2 4. Re6 Rxf2 5. Kg3 Rb2 6. Kxf3 Rb3+ 7.
Ke2 Rxb4 8. Rxe5 Kg7 9. g5 h6 10. Nd5 Rb2+ 11. Ke3 Bf7 12. h4 Rb1 13. Kd4
b4 14. Ne3 hxg5 15. Rxg5+ Kf8 16. Rb5 b3 17. Rb8+ Kg7 18. Rb6 Rh1 19. Ke5
Rh2 20. Nf5+ Kh7 21. Kf6 Bd5 22. Ke5 Bf7 23. Kf6 Bd5 24. Ke5 Bf7
{Draw by repetition} 1/2-1/2
Very interesting! A very complex position- anyone have any more analysis? Let me know!

Tags: Chess analysis, Chess game
Posted in My Chess • Comment on this post »

Written by: Richard

« Older Entries