♔♛
Posted on August 24th, 2010 by Richard
Earlier today I found my 15 yr old son on my computer playing chess 3 minute internet blitz. My son is a good player who has more or less given up regular time control chess but he plays a few 3 minute blitz games for fun.
I watched him win 3 games in a row before I asked to use my computer!
Here is the last game he played and won-very entertaining as both players were low on time:
CaroKann Opening

In contrast to that last week I had a bad time at chessclub in a decreasing time control tournament. I lost 4/5 games and forgot there was a final round 5 game & left the club!
I shall try and get some practice in against Numpty chess engine.
In regard to Numpty it is written in Basic (.bas) and about a week ago I tried to convert this to C code using BCX converter.
It didn't work! I got an error message (I have forgotten now exactly what). The only trouble I have running Numpty is that it seems very memory hungry and I can have no other programs open & running when I use Numpty. This is inconvenient as I like to play after research/computer work and I like to keep my browser tabs and programs open mainly.
One day I hope to fix this in Numpty-then I can do more practice against Numpty chess engine!
Tags: Chess game, Chess Openings, my chess games
Posted in chess games, Chess Openings, My Chess • Comment on this post »
Written by: Richard
♔♛
Posted on August 13th, 2010 by Richard
How good is your end game play? Have a look at this game. This is a part of a round 11 game from the recent British Championships.
White to play and white needs to win the game to get second place in the Championship:
Nice play by White to allow the potential  to Queen the pawn  (and also avoid the dreaded stalemate!)
so securing an overwhelming winning position and black cannot do anything now to stop White winning.
Now two important Rook and Pawn endgames-Philidor & Lucena positions
 introduced by Wikipedia http://en.wikipedia.org/wiki/Philidor_position:
The Philidor position (or Philidor's position) usually refers to an important chess endgame which illustrates a drawing technique when the defender has a king and rook versus a king, rook, and pawn. It is also known as the third rank defense, because of the importance of the rook on the third rank cutting off the opposing king. It was analyzed by François-André Danican Philidor in 1777. Most rook and pawn versus rook endgames reach either the Philidor Position or the Lucena Position if played accurately
The Lucena position is one of the most famous and important positions in chess endgame theory, where one side has a rook and a pawn and the defender has a rook. It is fundamental in the rook and pawn versus rook endgame. If the side with the pawn can reach this type of position, he can forcibly win the game. Most rook and pawn versus rook endgames reach either the Lucena Position or the Philidor Position if played accurately.
So here is JRobi on youtube on the Philidor endgame: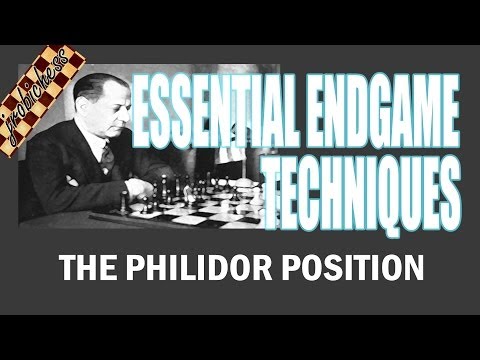 and here is JRobi on the Lucena position on youtube video: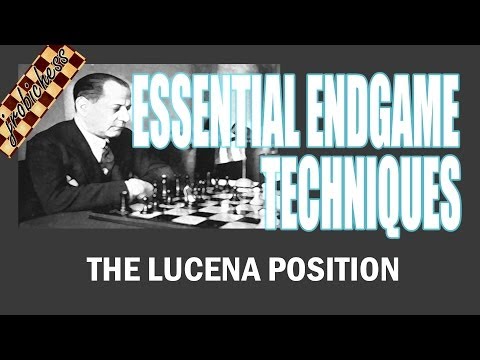 Well this all seems clear except that I have known about these positions since I started playing chess but I still do not know them fully enough to be totally confident with the correct moves. I do not know why I cannot get this to be automatic for me but I will try & study it and get it done!

These are common endgames and if you want to improve your rating you need to know how to play these positions….

Tags: Chess game
Posted in Chess End games, chess games, Chess Openings, My Chess • Comment on this post »

Written by: Richard

♔♛

Posted on August 13th, 2010 by Richard

Congratulations to GM Michael Adams on his win in the British Chess Championship.

Also congratulations to IM Jovanka Houska who won the womens title.

Mickey Adams won with a score of 9½/11 and a 2757 performance. Nick Pert finished second on 8 with a 2612 performance whilst Stuart Conquest, Andrew Greet, Jonathan Hawkins, Adam Hunt, Richard Pert & Alexei Slavin all finished equal third on 7½. Congratulations to Adam Hunt who secured his 2nd GM norm with a 2624 performance over eleven rounds

Here is the round 9 game between Adams and Hunt that ended in a draw:

Tags: Chess Tournaments
Posted in chess games, Chess Openings, My Chess • Comment on this post »

Written by: Richard

♔♛

Posted on August 1st, 2010 by Richard

The British Chess Championships are in play at the moment at the University of Kent, Canterbury.

British GM Michael Adams is in the lead after round 6 with 5/6.

Local Woodbridge School teacher International Master Adam Hunt is on 4/6. Both Richard and Nick Pert are playing there.

Here is a round 6 match between GM  S Williams vs IM T Rendle :

Here is a link to the webpage for the championships:
BritishChess2010

Tags: Chess game
Posted in chess games • Comment on this post »

Written by: Richard

« Older Entries